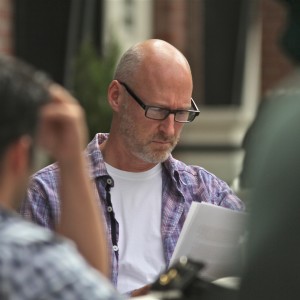 Why I Live in Vancouver
"I live here because I was born here" is a true statement, but choosing to live here goes beyond the delivery room efforts of my mother. And yet that laboured occurrence at Vancouver General Hospital in the spring of 1962 is the start of a story that fifty plus years later continues to play out in this city I love, this city I call home. While Vancouver's natural beauty and civic merits place it near the top of most rankings for the "Best cities on earth to live," and give me ample reason to stay, it's personal relationships that keep me here. Family, friends and community are the connections that allow me to feel grounded, supported and motivated.
Now before I run off all sentimentally like the final scene in It's a Wonderful Life, let me add it's also these close relationships that periodically have me toying with the idea of moving far, far away. Erma Bombeck's snappy, bestselling book title said it best: Family – The Ties That Bind…And Gag! If you navigate the waters of personal honesty you know what I'm talking about. Nothing has me weighing the merits of packing up and moving to some foreign shore like a good-ole ripple in the smooth-surfaced pond of family life. And if you're of the rarefied breed that experiences no ripples, well read no further. You have better things to do…like re-sorting your sock drawer.
Friends are another matter. Unlike family, I have the option of choosing my friends. This sounds liberating and fulfilling, but assumes one's cerebral-social-radar is undamaged, and for some phases of my life that assumption looms awfully large. So we'll skip those years and come to the present where I have about a dozen male friends whom I regularly call to just talk and hang out with. Half that dozen are in the inner circle of my confidence where I share all manner of troubles and joys. These bonds are not quickly or easily established. If I moved to Wagga Wagga, Australia I doubt they'd be promptly replicated. And no offense to Wagga Wagga, for I what I really mean is, "if I moved to anywhere other than the place I've established community," in short, anywhere other than Vancouver.
Yes mountains, beaches, great restaurants and a temperate climate are grand attractions, but it's the roots of my human relations that are the most valuable part of my life. To tear up those roots on a whim is unfathomable a thought as randomly removing one of my limbs, even when said limb is injured, chronically aching, or won't cooperate fully when working on my belaboured tennis backhand. My mother was taken to her limits in giving birth but she wouldn't have traded my arrival to avoid the blood, sweat and tears of that event. Well maybe she considered that trade when I was an adolescent but that's a story for another day. All rewarding relations are hard work and exhausting at times. My rewarding relations are in Vancouver and that's why I'm here.
Ken Wyder – May 2014
Ken's home page: click here